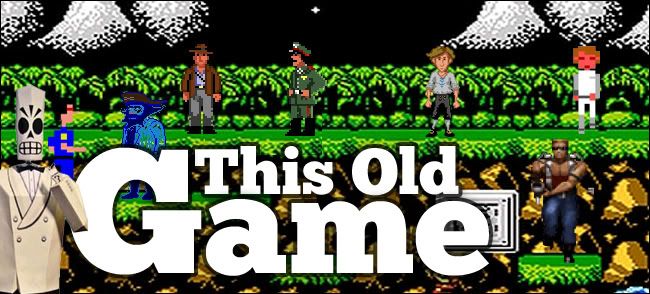 I have been very excited to do this article since we first thought of the "This old Game" segments as this particular collector is also a close personal friend of mine. About 3 years ago I saw an article up on Kotaku about a large project in the works to preserve Sierra games and create an art book called Art of Sierra, they stated Art of Sierra was looking for people who have Sierra games, art, information, stories etc. to contact them and help with the project.
Quickly I drafted an e-mail to Eriq letting him know I am a huge Sierra fan & at the time had a decent sized collection and would be willing to help in any way possible. From that point forward Eriq and I talked a ton of times about old games, collecting, hobbies you name it!! I have to say Eriq was the first collector I met that was more passionate then me and every time we talked I felt more inspired to do something Sierra related. So enough of me going on and on lets get down to one of the best Sierra (among others) collections you will ever see.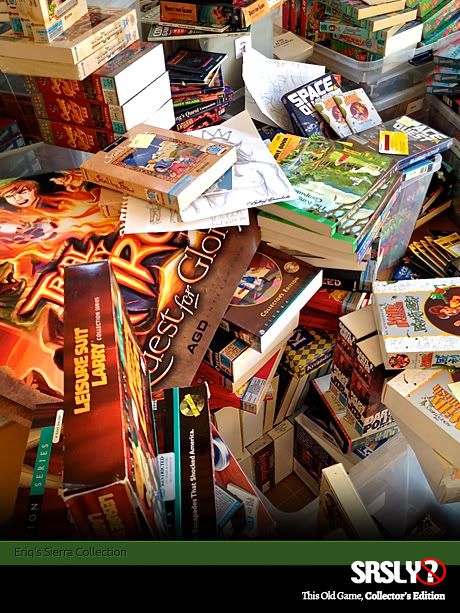 Eriq, tell us a little about yourself
Well Mike, I'm an artist.
I do art direction, illustration, and design mostly for the entertainment sector – and I've been known to dabble in corporate ID, branding, and all kinds of visual stuff. I love to read. I enjoy getting lost in a bookstore – I could probably spend a week in a bookstore if I didn't have anything else to worry about. I enjoy dissecting information – mostly adventure games and collectible type stuff. I
am fascinated both by collectibles and, maybe more so, the packaging and design around the contents inside… I have a real obsession with how things are promoted.
I love music. I love to sing. I wish I had more time to go to dance clubs – I really miss dancing with my friends.
I am just rediscovering my love for plants and interior design. I used to have a real green thumb when I was in my teens so it's nice to have some plants in my naked house now. Eventually I'd like to tackle some home projects like building a nice planter for some bamboo on my deck. And I love Sierra. I have a very deep love for adventure games – Sierra was where that all started.
How long have you been collecting classic games?
If you count childhood, I guess most of my life. So around 10-11? But seriously "collecting" and acquiring for nostalgic value… that started right around 1999-2000. It took a few years for the eBay and online bug to hit me – in 2003 I went real nuts. I collected everything retro – adventure games and all of the classics in various genres pre-1994, boxed, un-boxed, sealed… you name it. I also had a healthy obsession with
archiving tear sheets (original ads, reviews, mentions, interviews) in all of the major (and a handful of relatively unknown) PC game magazines. In particular, I can remember buying nearly every issue of COMPUTE! magazine I could find because Sierra would always take the back cover for an ad and those particular ads were some of the first, in my opinion, really well designed adventure game ads. The first
Hero's Quest and Space Quest III ad from Compute! are really excellent (and rare!)
This was the same time I started collecting Freddy Krueger gloves – and I amassed a pretty scary collection of those as well. But that's another story.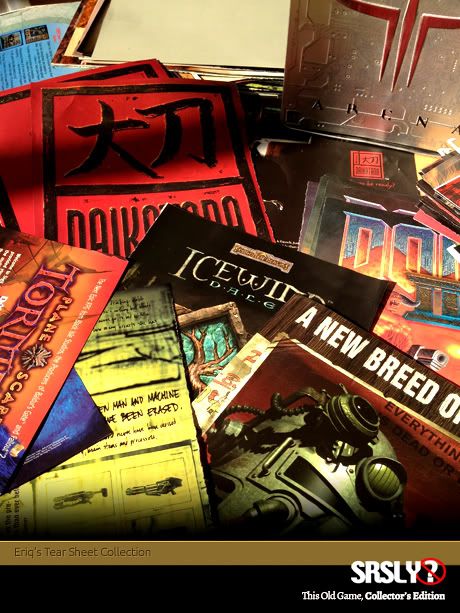 What made you want to get into collecting?
My love for adventure games of course! I guess when you love something so much.. something that defines who you are and what you do, you want to surround yourself with those memories. I think it's important to build an inspiring, comforting environment to work in as a creative and for as long as I can remember – even as a child – I've always placed a lot of emphasis on how I arrange my workspace and
things I love like my books, games, and DVDs. So collecting stuff kind of feeds that need to constantly change and shift the stuff around me that makes me happy.
I didn't really think of myself as a serious "collector" until I opened my hallway closet one day – I was living in a small Victorian flat apartment on Union Street in San Francisco at the time – and the large pile of magazines stuffed into USPS priority mail boxes closest to the door comes crashing down along with the entire closet-length shelf of games above it. Needless to say, on top of being disappointed, it occurred to me how ridiculous my purchasing had become. I don't think I really had any room sans about
two feet for my clothing at one point.
So that's how, and when, my collecting started. That lasted for a handful of years and I would eventually amass what would become today's "adventure game vault" in plastic bins in the garage.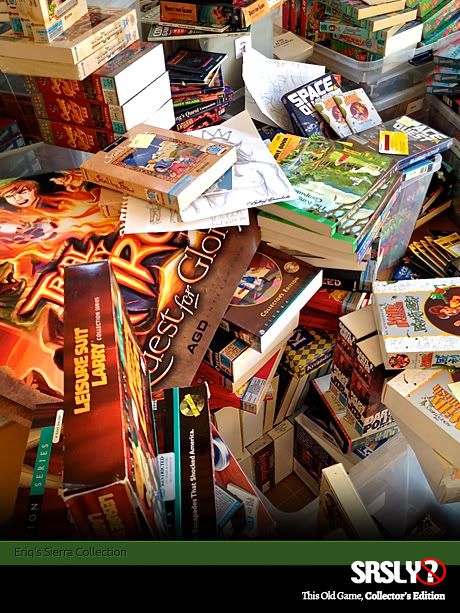 Do you remember the first computer game you played, and is that title in your collection?
The first games I really remember playing were at my cousin James and Michael's home in a small white room in the garage. I believe it was something like chopper or something. I started 'really' playing adventure games when I was around 11-12 and booted up Space Quest I in colour on the Apple at a friend of a friend's house. This was the same year of the October '89 earthquake because I remember riding my bike all the way to Chris's (friend of a friend's name) home just to play this strange little
adventure game and I went to get an ice cream in this shopping village when the quake hit. I can remember this large woman running out of one of the offices screaming, "Oh Jesus! Help Us Jesus!" waving her arms around madly and I dropped my ice cream during the quake. This is all very vivid still in my mind – maybe because I really wanted to be able to stay over at Chris's house much much longer than I was allowed to in order to play more Space Quest.
I do own Space Quest I : The Sarien Encounter! Definitely. But I don't own the original black box version that you do so I'm quite jealous when I see photos of that. I would love to own a set of pristine black clam-shell style original Sierra releases like the King's Quest and Space Quest titles.
When you are looking to add a new game to your collection, what are you looking for?
I generally stick to adventure games unless a certain memory sparks the hunt for something new. I like to go on to eBay or Craigslist every now and then just to see what's out there but, to be honest, in the past few years collecting hasn't been a priority for me any longer. I would really like to share and give away a lot of my collection over the next few years. What good are games that anyone isn't playing. They're just sitting there.
What I would like to collect now are the Infocom titles in their original packaging. Infocom was a pioneer in packaging their titles with "feelies" and great stuff. Since I've never really played any of the Infocom titles, it would be great to experience them fresh and new as if I just bought them from the store.
I know I 'need' something for my collection when it sparks an idea. Or if it inspires me to create something of my own or jot down some notes or stuff for other projects. If something makes me feel that nostalgic tingle, I might hunt it down.
I think serious collectors can appreciate things that look 'preserved' or pristine as well. It's hard to resist items that reside in their original packaging or things like hint books and games still sealed with original labels. I even have a fascination with original receipts.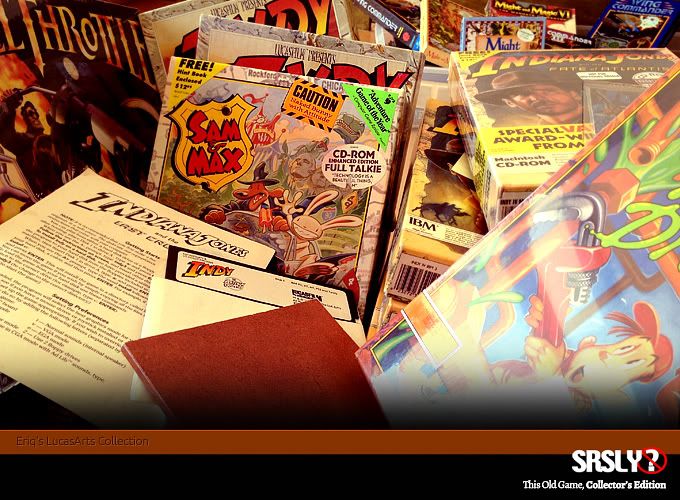 So what is your "Holy Grail" that one item you want more then anything but just have not achieved yet?
I would love to own a King's Quest VI "Lord of the Dead" framed print. I know exactly where I'd hang it. And it would really mean a lot to me because it was one of the moments Sierra went out of their way to preserve a piece of art back in the day in an appropriate way – paying tribute to the visual artist because the visual design in Sierra games was a large part of what made them so special.
I would also like to own a Zak McKracken or Maniac Mansion original t-shirt or two so we could wear them around the studio or to game conventions.
Looking at your entire game collection what are your top 5 games?
This is a very difficult question to answer because it changes so often. But I'll tell you which games are important to me right now… retro-wise:
5. Monkey Island II – I thought this game was the perfect package. Literally. Beautiful box. Beautiful cover art. Great story and puzzle design – LeChuck's Revenge had brilliant puzzles. Just a real meaty, gorgeous game release by a very talented developer. I thought this game really had it all.
4. Callahan's Crosstime Saloon – I think this is a real under-appreciated gem. Not a lot of people know about Callahan's Crosstime Saloon which is too bad because it is such a brilliant title. If you enjoy dialogue and wordplay/descriptions for everything on-screen, this is the adventure game for you. It also features what I consider the absolute most enjoyable UI/parser of this format from Legend (or any developer for that matter) – combining text, beautiful pixel-y graphics, and a story that takes you to a handful of different "hubs" in a single game. I love this title. It is also designed by the great Josh Mandel who is just as witty and smart in-person as would be expected. I think this title reminds me of what I love about stories in adventure games – it's a real wacky game with a lot of unique little things to do and see.
3. King's Quest V - King's Quest games are each important in my collection for different reasons. Each one reminds me of a certain time or 'feeling' I had at the time I acquired the game. But King's Quest V, in particular, holds a very special place in my heart because it was the first game that really inspired me to take drawing seriously. 'Absence Makes the Heart go Yonder' (brilliant named by Roberta lol) featured some of the most amazing graphics back in the day… it has stood the test of time, in my opinion, due to
the sheer greatness of its art direction. I would sit in class trying to emulate the backgrounds – the dark forest in particular. I really trained myself to illustrate well studying this game. And I owe a great deal of my drawing skill to Andy Hoyos, the art director on this title. I recently had a chance to share some of my very early pixel graphics made on my Commodore with Andy and that will always be a great memory.
2. Loom – I love this game both for its imagination and its art design. I also think the design director was very smart to include a full-length audio drama on cassette. I don't think any other game since has taken the time or effort necessary to produce an "introduction" to a game world in such lavish a fashion. Because this title was produced through the Lucas line of companies, they had the opportunity (and luxury) of utilizing a great sound studio and top talent – the production was so wonderful. Loom is the
game that I own the absolute most copies of. I was really obsessed with buying every possible copy on eBay for a good year or two. It's so ridiculous… I own two Hebrew versions, a rare Japanese DVD version, two Loom t-shirts (I recently gave one to my good friend eric who works with me – he mentioned it was the ultimate gift… he's a real Loom nut as well!), and a handful of the very original Loom print ads featuring the beautiful shot of Bobbin casting a spell on a gorgeous rendition of a moody dock at night. I just think that ad is so magical… evoking the real quality of the game. I loved the visual design of Loom
so much that I had five of the screens (one from each major "area") framed and matted in my studio to remind me of its beauty each day. The art director was wise to theme each of the game 'lands' with a very specific palette and feel which I always admired. I think some of that colour-sense has stayed with me through the years… I love daring use of colour. I also really love the back of the Loom game box… the tapestry background bordering and ancient, shepard/weaver-style illustration work is beautifully done.
1. Quest for Glory I (both the EGA original and the VGA remake) – Well it was hard to choose a title for first place but since I am currently working on a project with the two designers of Quest for Glory, I thought it would be appropriate to celebrate the original QFG game. Both of the original editions of this adventure are equal in quality, in my opinion… the VGA leading by just a nose due to the graphic fidelity and background environments being so incredibly well-done. The Quest for Glory games remind me of
how colorful life can be.. and all of the wonderful, unique characters we deal with in everyday life. Life is about overcoming obstacles and chasing after your dreams and I think this series is the greatest example of this – the original holding a special place in my heart for several reasons. I can remember seeing the original painting for "So You Want to Be a Hero" in the hallway of Sierra On-Line in 1990. My father surprised me with a tour on the way back home from Yosemite and a handful of moments from that tour are memorable to this day, the large-scale illustration of the Saurus battling the hero by Kenn Nishiuye
being one of the most vivid. I can remember Sue Kurtley, the customer service manager at Sierra 'lifting' the protective vellum to show us the painting. I can also remember staring at it much longer than the rest of the group because Sue, who also played our tour guide, asked me to 'please keep up with the rest of the group.' I was so taken by the detail and the quality of the painting because it was done in airbrush in several areas and I had never seen anything done in that style before at that age. I also love the Quest for
Glory games because the box art featured the beautiful "Hero's Quest Cole Creation" monogram-style emblem with the dragon peering over the mountain on the side of the box which I always thought made the spine look so adventurous and exciting. And there was nothing more exciting than finally running into a Cheetaur (featured in their video catalogue and on the back of the box) or defeating the kobold in his cave as a magic user…
I always played a magic user! And the Kobold cave was always one of my favorite
background paintings. There was always a sense of accomplishment in Quest for Glory and I will never forget playing it for the first time – a great adventure, role-playing hybrid that really did what the designer's set out to do very very well – make you feel like you could take on the world.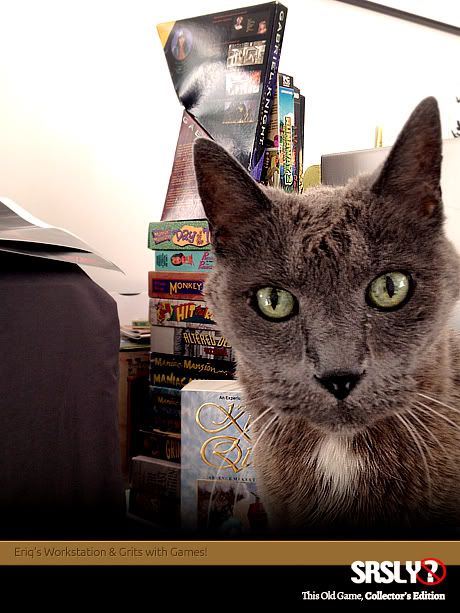 Do you have any other memorabilia in your collection, maybe a special game or item?
I own a copy of the very rare Omnicron Conspiracy – a game title
that I can remember watching my friend Tim play for hours… I have absolutely no idea what it is about this game that made it so intriguing to me… I think it has something to do with my memories of playing Neuromancer on my C64 and Space Quest combined into something… it's a bizarre little adventure game that I could never get to look quite as good as the screenshots on the back of the box. I remember Tim playing Omnicron on his Amstrad PC and being transfixed by the setting. At some point I went back and
tried playing this title and don't recall it being quite as engrossing as I remember but I will never forget sitting there watching him make his way through this space city and looking at that box dreaming of being able to experience the game one day for myself from the beginning. It's a great box with a set of really great screenshots. And I think this title, along with Neuromancer and Space Quest are the reason why I love, and dream, of both being reincarnated in a Space city of this style one day.. and eventually designing a space-style adventure in this vein.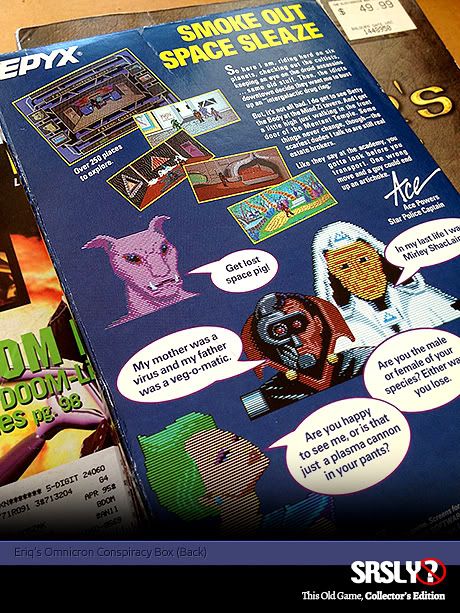 Eriq, please tell us one story that sticks out in your mind on how your obtained an item for your collection
My fondest memory of my collecting days was when I made a gigantic purchase of most every major Sierra and LucasArts game from ONE seller in ONE lot…. I lost the seller's contact and information in a burglary but he was just a fantastic guy and was really rooting for me to win the auction. I like to think that he might have cancelled some of the bids just so I could win. LOL. This was just the supreme collector's lot – it contained every title in excellent condition and some additional games like LucasArts
Rogue Squadron and X-Wing titles along with Sierra partner games like Zeliard and some of the Coktel Vision titles. It was just a massive lot and I paid something like two to three thousand dollars for the whole thing which was really a steal for such a large amount of titles. This was significant obviously for the sheer cost of the lot from a game standpoint (a near-complete collection) … and to receive a shipment of this kind was just…. unbelievable. I will never forget it. I don't think you'll see an auction
quite like this one for years to come… maybe. (hint hint.)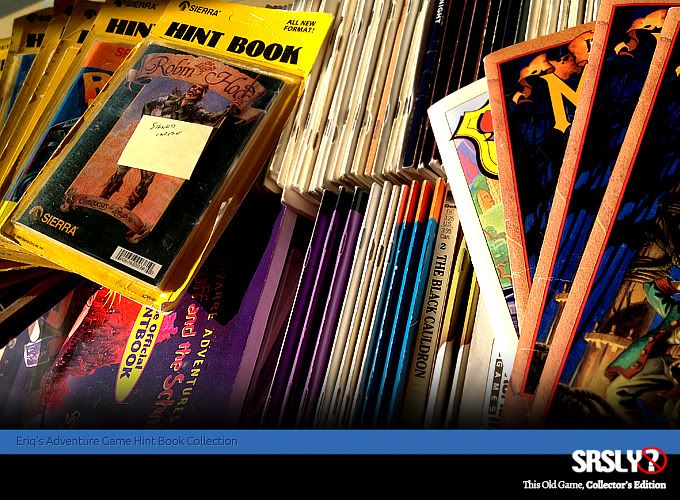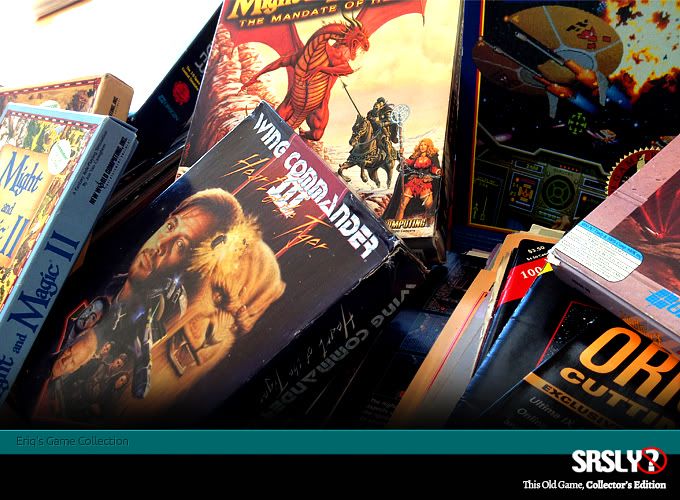 Thank you so much Eriq for sitting down with me and showing off your amazing collection to our fans. You are a great friend and an even better collector.
If you are interested in also having your collection featured on our website e-mail me.