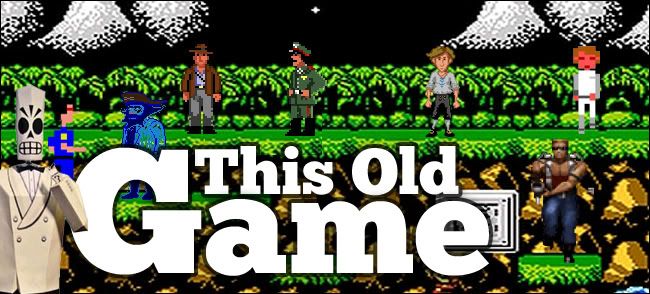 First off I want to thank everyone for the support on our last collectors article we did with Scott. The feedback has been great and there is no short supply of game collectors wanting to have their games showcased.
I first spoke to Josh several month ago when he was looking for pictures of Sierra productivity software I had in my collection. It was a bit strange to have someone asking for details on the contents of a typing application and not something Kings Quest related. This is what (in my opinion) makes Josh such a great collector, while the rest of us are out clamoring for another copy of Space Quest III Josh is hunting down software that most people are tossing out for being obsolete. For this I applaud him and I hope you like his collection as much as I do!!
- Josh, tell the folks about yourself.
I'm from Waco, Texas. I work at the VA Regional Office in Waco. I enjoy reading (sci-fi and fantasy, in particular), writing, playing Japanese console RPG's, and I'm a huge fan of Disney stuff.
- When did you start collecting games?
I started collecting around 1998, but it really hit in 2001 when I turned 18 and was able to register for an eBay account.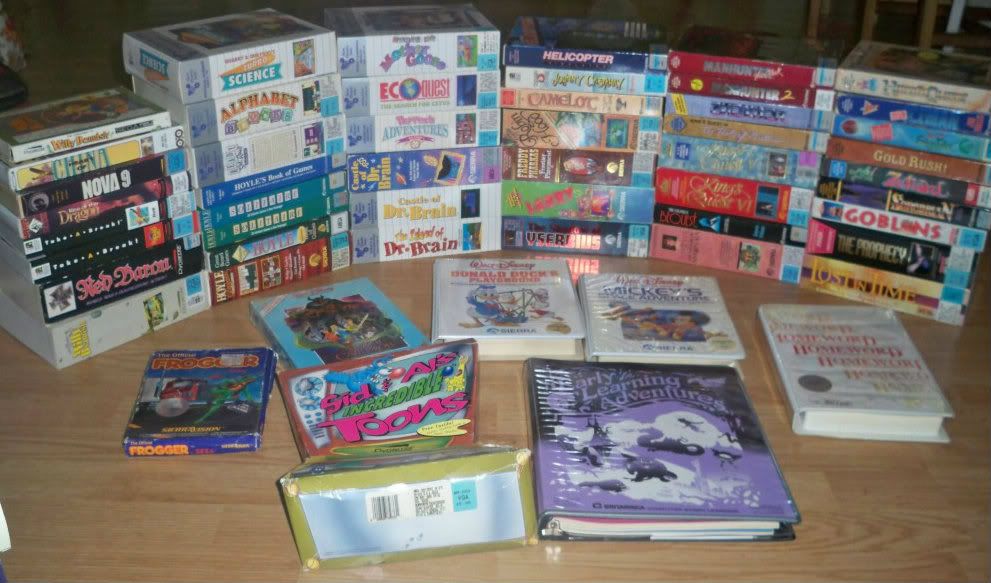 - Who got you started in vintage game collecting?
My friend, Kimmie, former moderator of the Official Sierra King's Quest boards and the former webmistress of Sierra Planet. I had really wanted to play other Sierra games besides the King's Quest games (I had bought the King's Quest Collection Series for $20 on clearance).
She encouraged me to start collecting the Sierra adventure games, and even showed me how to do to search for things on eBay. She suggested this as an alternative to Abandonware, which was, at that time, still quite a vague issue relating to Sierra titles.
- Do you remember the first computer game you played?
This is hard to say. Back in the early 90′s, my sister got a computer from her dad which had tons of Sierra games on it. King's Quest 1-4, Space Quest 1-3, Leisure Suit Larry 1-3, Police Quest 1-2, Mixed-Up Mother Goose, Black Cauldron, Gold Rush, Manhunter 1-2, Hoyle Book of Games 1…those are the ones I remember off the top of my head.
The first game I probably played was Mother Goose (as I was like 7 or 8 at the time), but I LOVED King's Quest IV. I have both of those games in my collection.
- When you are on the hunt for new items for your collection what are you looking for?
Software from Sierra is pretty much what I collect in general, with a specific emphasis on Education/Children's software and Productivity software. I also collect Sierra's adventure games, although I will pick up adventure games from other companies if they are recommended to me (as shown by the last picture). I also like console RPGs, in particular those made by Konami and Square Enix.
Something for me is that back when I was seriously collecting in the early 2000′s, I was more interested in owning the games rather than having a complete, original, shrink wrapped game. So I was totally cool buying Slash releases, etc. so that I could install the games on my computer (I was scared at that time to download Abandonware, especially since some of that software could still be found for sale in stores). So my goal was mainly to own the games for the sake of playing them rather than collecting them, although I did try to get the original box (as opposed to just the jewel cases or floppies) just because I thought they looked cooler.
Nowadays, I'm less picky about the box, especially if it is a rarer piece of software, but I would still prefer the completed game. Unfortunately, most people don't keep the box/other materials for educational or productivity software, as most people only use it for a season and then get rid of it once the newest version comes out or their kid outgrows it. It makes it extremely difficult to find these types of software complete in boxes.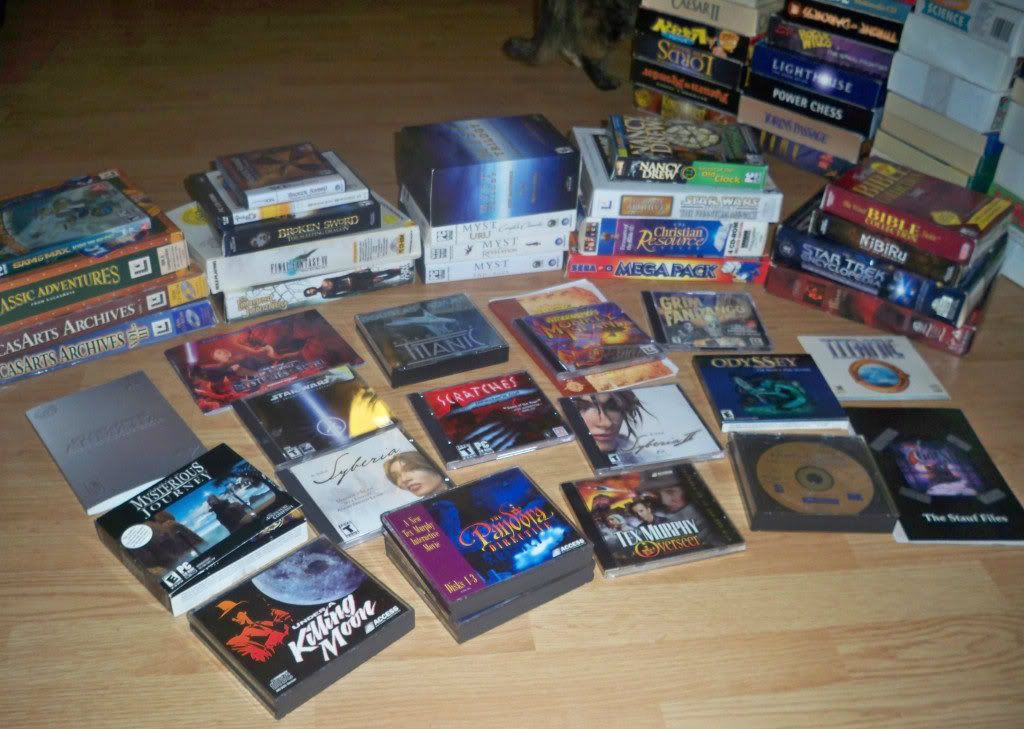 - Any items out there you really want but have not gotten yet?
Where to start? For Education, it would be Mega Math, the last game in the Sierra Discovery series. I've never seen it in 11 years of searching eBay auctions. The A.J.'s World series and Bop-A-Bet are two other rare educational Sierra games.
For productivity software, it would probably be Sierra's On-Line modem software. Never seen one of those either. HomeWord II is extremely rare (to the point that I've questioned whether or not Sierra actually released it…) Then again, as I've said before, Sierra educational and productivity software is hard to come by. Just today I found out about 4 new pieces of Sierra educational software that I never knew existed!!!!
- Here is the hard question, what is your top 5?
My favorite adventure games (from a gamer's perspective) are King's Quest VI, The Dagger of Amon Ra, Quest for Glory IV, Shivers, and Sins of the Fathers.
As far as really cool (from my perspective) on a collector's basis, they would be King's Quest IV AGI, Ready Set Read with Bananas and Jack (although I'm missing a disk, sadly, which makes the game unplayable), The Black Cauldron, The Colonel's Bequest (with original notebook, magnifying glass, pencil, and hint book!), and Early Learning Adventures (a educational collection for use in schools that included Learning with Leeper, Troll's Tale, Dragon's Keep, and Gelfling Adventure).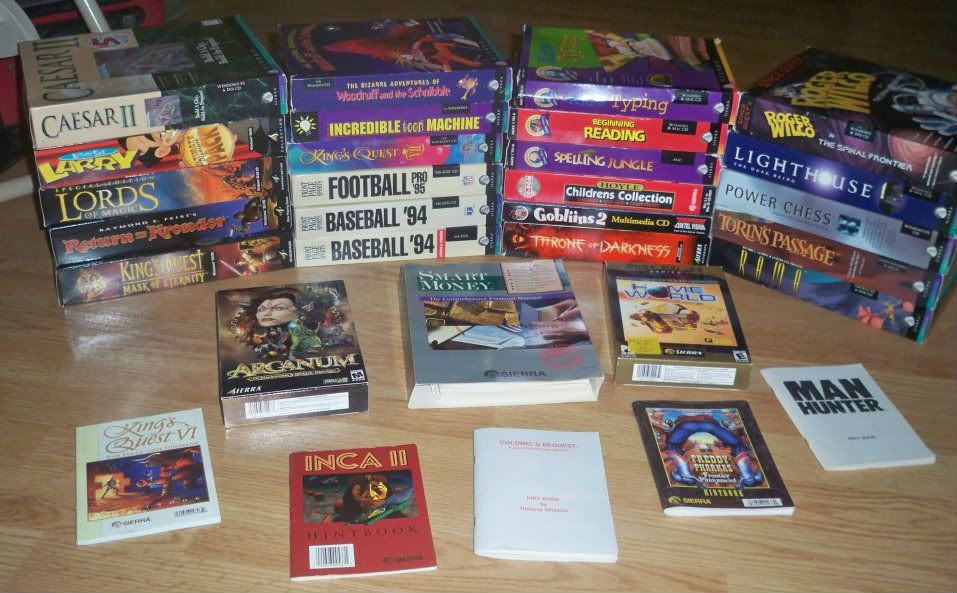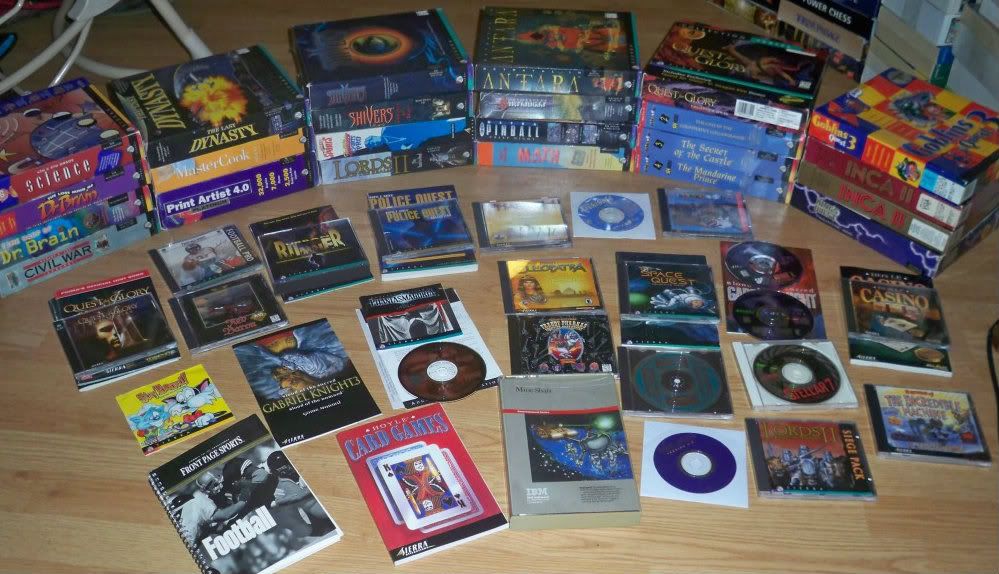 Other then software, any other cool pieces in your collection?
Unfortunately no, unless you count Early Learning Adventures, which has teacher manuals, etc. besides the games themselves. Well, there's also the GK novels and the first 2 KQ novels. I don't think that would *technically* qualify under the memorabilia aspect, though.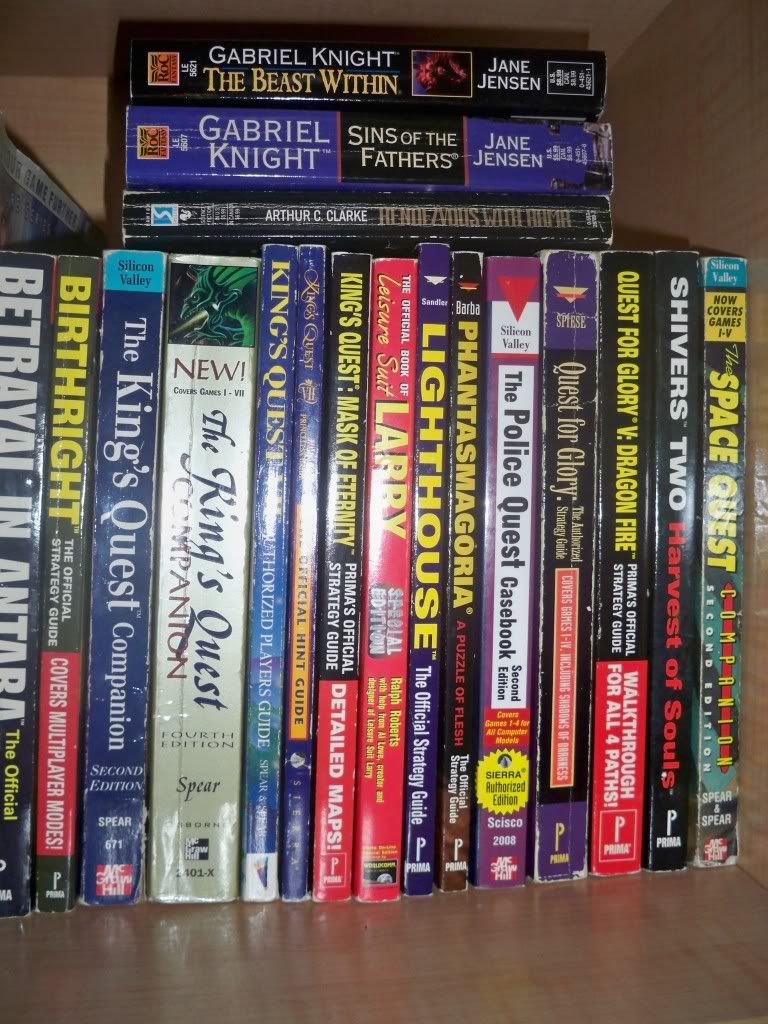 - Any good stories on how you obtained an item in your collection?
It's been so long since I got most of my collection, that I don't remember a lot of the details. I know that the only way I was able to afford Pepper's Adventures in Time was because the seller had it listed as "Pepper Adventure in Time". I don't think anyone else even bid on it! That was very lucky, as I've always had a fairly strict budget for buying games (and try to keep from spending over $10-$15 dollars for each software) due to first being a fairly poor college student, and now being a college graduate who is trying to get debt free.
Another really cool story is a few months ago, I happened to drop by a thrift store in town that I had never visited, and there was a complete copy of Robert E. Lee: Civil War General (in the original box) for $3.00. I thought that was awesome, so I of course bought it. T Unfortunately, that's the exception more than the rule for me, as that is the only classic Sierra game I have ever found in its original box at a thrift store.
- Do you still sit down and play the games in your collection?
Not as much as I would like, but I do still play them. I just beat Leisure Suit Larry 2-3 and Codename: Iceman earlier this summer, which now means I have beaten all of Sierra's adventures games from the SCI-0 series and prior to that. Of course, they had NUMEROUS VGA releases, so I have quite a ways to go. I have played some of the VGA releases already.
- Now here is the question that no collector ever wants to answer… Care to offer any tips on finding great games or pieces for our collections?
eBay is your best bet. Sometimes you can find some stuff on half.com or Amazon, but the problem with that is that there usually isn't a picture, so you have to be careful. Always search within the description, as you never know what the seller listed as the auction title.
Use search filters to your advantage. I don't just search for King's Quest…I search for ("King's Quest", "Kings Quest", "King Quest") which brings up any listing under those three choices. Don't be afraid to email the seller if the description is unclear. Be familiar with what comes in the box, so that you know if you're getting a complete game (especially for games that have copyright tests in them, which a lot of Sierra adventure games do). Finally , if you see an eBay buyer named cronorserge100, don't outbid him!
Thank you very much Josh for letting us look at your collection!!
If you are interested in also having your collection featured on our website e-mail me.