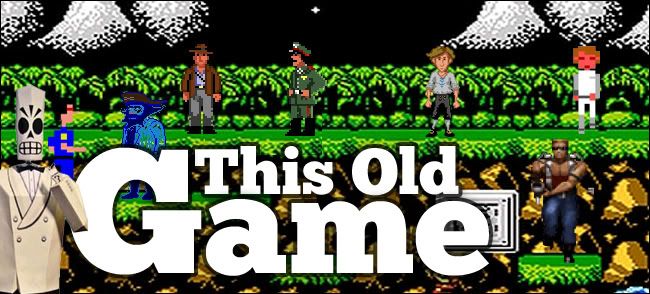 Space Quest I: The Sarien Encounter
1986 – Sierra


Description – The original Space Quest game was released in October 1986 and quickly became a hit, selling in excess of 100,000 copies (sales are believed to be around 200,000 to date, not including the many compilations it has been included in). It was remade and re-released in 1991 as "Space Quest I: Roger Wilco in the Sarien Encounter".


Story – Players of the original game are never told the hero's name, but are instead asked to enter their own. The default name of "Roger Wilco" — a reference to the abbreviated radio communication, "Roger, Will Comply" — became the de facto name of the hero in the later games of the series.
Roger is a member of the cleaning crew onboard the scientific spaceship Arcada, which holds a powerful experimental device called the "Star Generator" (a thinly-veiled reference to the Genesis Device from Star Trek II). Roger emerges from an on-duty nap in a broom closet to find that the ship has been boarded and seized by the sinister Sariens. Using a keycard that he found from the body of a dead crew member, he finds his way to an escape pod and escapes the Arcada.
After crash-landing, he finds himself in the dry and barren wasteland of the planet Kerona. After making his way through the desert and a system of underground caves, he is tasked by an insectoid alien with killing a monstrous creature called Orat. After succeeding in this task, he returns to the alien with proof of his success in the form of a piece of Orat's flesh. As a reward, the alien lets him into an underground complex inhabited by more aliens, and provides Roger with a skimmer, a small flying vehicle which cruises a few feet over the sandy ground.
The alien tells Roger there is a town that he may travel to in order to find a way off the planet. After navigating a rocky section of the planet, Roger reaches the town of Ulence Flats and goes to the local bar. By playing a video slot machine, Roger wins enough money to buy a spaceship and a navigation droid.
He overhears from a bar customer the location of the Sariens' spaceship, the Deltaur, and flies to its coordinates. He then infiltrates the ship, finds his way to the Star Generator and programs it to self-destruct, escaping the ship just before it explodes.
At the end of the game his efforts are rewarded when Roger receives the Golden Mop as a token of eternal gratitude from the people of Xenon and becomes an instant celebrity.


[wowslider id="7"]
Interesting Facts –
* Toys R Us sued Sierra for its use of the name Droids R Us without their permission. The store was changed to Droids B Us. Despite this, the remake adds a parody of Geoffrey Giraffe, the store's mascot along with a design very resemblant of the store.
* ZZ Top sued Sierra for putting them in the game without permission. Despite this, they reappear in the remake.

* Adventure Comics released three issues in 1992 of a comic based on Space Quest under the name The Adventures of Roger Wilco. The first was written by John Shaw and was in full color. The other two were written by Paul O'Connor and were black and white. The print run was very small and the books are very rare.
* Kings Quest II contains a trailer for Space Quest I as an Easter Egg.
Where can I get more? – I presently have 8 copies of Space Quest 1 in my collection (2 – Small Black Box, 5 – Second release with two being sealed and 1 signed by Scott Murphy and 1 re-release copy), They are pretty common to find on eBay but the prices can be all over the place. I have seen some copies sell for a few dollars and others for fifty plus dollars. Steam has the Space Quest collection for $19.99 and it works really well on Windows 7, however it is missing the EGA version of Space Quest I (its the VGA re-release). GoG also had two bundles, 1-3 & 4-6 for $9.99 each.
Check out our first video, an in-depth look at Space Quest I:

We also have to mention the hard work that one of our Partners, Infamous Adventures, have put into creating some damn fine re-makes. Make sure to check out there Space Quest for Glory Mini-Game!
Mike's Thoughts – I cant say enough about this Sierra title. It is my favorite PC game of all time, and next to Police Quest the game I have played the most. The Sci-Fi humor aspect of this game is great not to mention I can really appreciate the art behind it. When I was a young lad I remember sitting on the floor in my parents computer room watching them play this for hours on our Tandy computer. I would often try and play it myself, but being young meant I didn't fully understand it nor could I spell worth the crap.
It was in 1993 that I remember buying my first copy of Space Quest. I was at a Target store and they had it in the PC game section, I couldn't get home fast enough to load it up on my IBM computer. Playing this title made me want to go back and play the originals, so I set out to get them and I was lucky enough to have a friend who's dad had all of them. We played them all and he swore number IV was the best, but something about The Sarien Encounter just stuck with me. I LOVED IT!!! Still to this day if I am traveling I have DosBox and SQI loaded up and ready to play. It's always great to see someone look over and see you playing a 1980′s PC Game.
If you have never played this title (or any others in the series) please do!!! They are fantastic and I promise you will get a few laughs out of it.
Kyle's Thoughts – Never played it, I know Mike loves it.
We hope you enjoyed this article, if you would like additional details on this game or add some information please contact us.